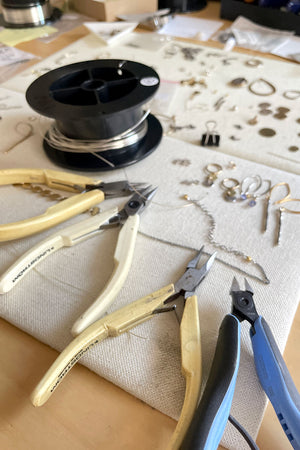 HOW A COLLECTION COMES TO LIFE
From sketches of design ideas, model making and casting, to the final photo shoot, we invite you to take a look behind the scenes.
At the bench
Building designs with wire, castings, pliers, chain and beads.
drawing & designing
Each design begins with a drawing
clay & wax models
Kristen creates each original design by hand.
at the foundry: Wax pots
Our 2nd generation Providence-based casting team makes wax versions of Kristen's original designs.
at the foundry: Investment molds
Delicate wax models are surrounded with investment to prepare for the metal pour.
At the foundry: Metal pour
Molten silver, bronze or gold is poured to create our casts.
Castings
Casts are ground, tumbled, polished and sorted. Ready for creating beautiful designs!
photo shoots
Work hard-play hard sessions with talented photographers to capture the beauty of each design!
Thank you for talking a walk with us...
...to see how a collection comes to life.
~~~~~
Want all the behind the scenes info delivered right to your inbox?
CLICK HERE to become a Kristen Mara VIP!