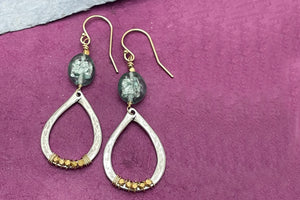 Valentine Collection 2023

Valentine's Day is a beautiful reason to celebrate LOVE in all its forms,
and our Valentine Collection is inspired by this grand feeling!
Enjoy something a little more…
romantic, elegant and dressy to celebrate this season and brighten your days.
Our joyful alchemy of saturated colors, shifting textures and glimmers of gold are tiny one-of-a-kind treasures to take with you as a reminder of what matters most to you ❤️
Carefully crafted with an understated elegance for everyday wear and to add a luminous sparkle to your late winter style, each piece is a celebration.
These one-of-a-kind designs will be available on a first come first served basis so plan to shop early!
To share a little more love this year, we're sending a $20 Gift Voucher with every Valentine order to our VIPs!
Get your secret code to claim your voucher (plus free shipping!) delivered to your inbox when our Valentine Collection goes LIVE.  Add your email address to our newsletter list.