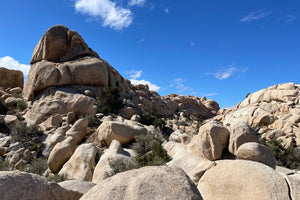 Exploring the Sonoran Desert, Joshua Tree & the southern california coastline
Earlier this year I traveled with my fiancé Steve to southern Arizona and southern California.
It was a joy to visit our respective families and to explore the beauty of the Sonoran Desert, Joshua Tree National Park and stunning southern California coastline.
The richness of textures, space and forms spoke to my creative soul and have inspired ideas for new designs!
Enjoy this photo journal of some of the wonders that nature and the environs offered up to us. I hope you find the spaces and places as deeply peaceful, inspiring and beautiful as I did.
torrey pines preserve, CA
Thank you for sharing our journey...
...to a few of the most beautiful places on earth! We hope you find yourself re-inspired to care for our beautiful planet, just as we do every day at Kristen Mara.
🌱 using recycled sterling silver and bronze (no new mining operations required!)
🌱  sourcing materials only from USA partners to reduce carbon footprint 
🌱  partnering with socially responsible businesses and keep it human-friendly 
~~~~~
Want more behind-the-scenes stories and secret offers delivered right to your inbox?
CLICK HERE to become a Kristen Mara VIP.